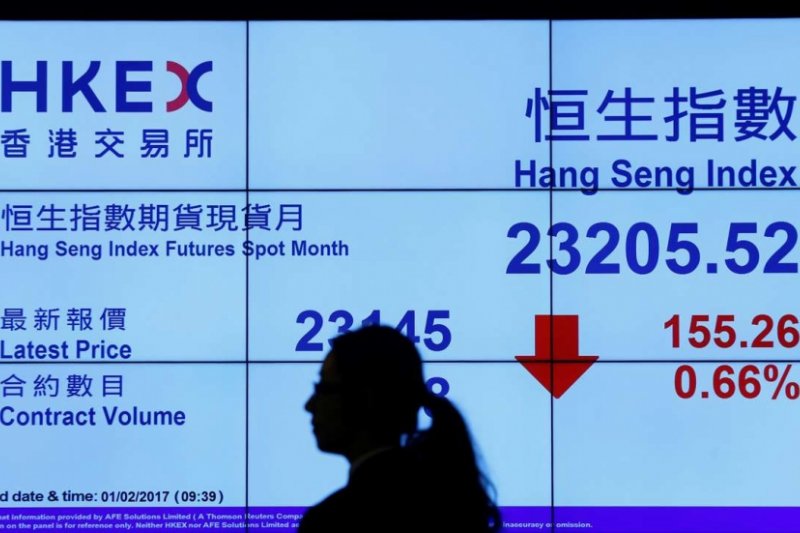 PT Equityworld Futures Medan- Bursa saham Asia kompak dibuka menguat pada perdagangan Kamis (5/11/2020), mengikuti penguatan dari bursa saham acuan global, Wall Street pada penutupan Rabu (4/10/2020) waktu Amerika Serikat (AS) atau Kamis waktu Indonesia.
Tercatat indeks Nikkei Jepang menguat 0,27%, indeks Hang Seng di Hong Kong meroket 2,47%, indeks Shanghai di China terdongkrak 0,86% STI Singapura melesat 1,21% dan KOSPI Korea Selatan terapresiasi 0,68%.
Beralih ke barat, bursa saham AS, Wall Street kembali terbang pada perdagangan Rabu waktu AS di tengah keunggulan sementara calon dari Partai Demokrat Joe Biden dan mengabaikan risiko 'ancaman' tuntutan hukum petahana Presiden Donald Trump.
Dow Jones Industrial Average melesat 1,3% ke 27.847,66, baik untuk tiga sesi berturut-turut. Sementara S&P 500 terbang 2,2% ke 3.443,44 dan Nasdaq meroket 3,9% ke 11.590,78.
Para analis menghubungkan reli ini dengan 'gelombang biru', di mana Partai Demokrat bukan hanya menang di DPR AS, tapi juga Senat, yang selama ini dikuasai Republik, dan Gedung Putih.
Meski belum selesai perhitungan, Berdasarkan data sementara Associated Press (AP) pada pagi hari ini, Biden memperoleh 264 dukungan elektoral yang jadi penentu kemenangan pemilu AS sementara Trump 214.
"Pasar sedikit lega," kata Shawn Cruz, ahli strategi pasar senior di TD Ameritrade, dikutip dari AFP.
"Hasil itu akan memoderasi kebijakan dari Washington, mengurangi kemungkinan kenaikan atau perbaikan pajak besar-besaran terutama ke bidang perawatan kesehatan dan bidang lain."
Pasar, kata dia, mengabaikan ancaman tuntutan hukum Trump. Pasar juga tidak bereaksi saat Trump meminta perhitungan ulang di Wisconsin setelah negara bagian itu memenangkan suara untuk Biden.
Sementara itu, di saat yang sama, AS dibayangi rilis ekonomi cukup berat. Perekrutan pekerjaan di sektor swasta lebih lemah dibanding perkiraan Oktober seiring dengan 'lempemnya' aktivitas sektor jasa.
Ini dipublikasikan jelang dua hari pertemuan bank sentral AS, The Fed. Lembaga moneter yang dipimpin Jerome Powell itu diharap memberi sinyal lebih banyak ke pasar bahwa The Fed akan membantu memulihkan perekonomian yang terpuruk karena corona.
Sementara itu, di kawasan Asia, data ekonomi yang telah dirilis hari ini adalah data transaksi berjalan Korea Selatan periode September 2020 dan data Purchasing Manager' Index (PMI) Jasa dan Gabungan Final Jepang versi Jibun Bank untuk periode Oktober 2020.
Berdasarkan data dari Trading Economics, transaksi berjalan Korea Selatan tercatat surplus US$ 3,64 miliar menjadi US$ 10,21 miliar.
Selanjutnya, PMI Jasa Jepang tumbuh 0,8 poin dari sebelumnya di angka 46,9 menjadi 47,7. Sedangkan PMI Gabungan Negera Sakura tersebut naik 1,1 poin dari sebelumnya 46,9 menjadi 48.
PMI menggunakan angka 50 sebagai ambang batas, di bawahnya berarti kontraksi, sementara di atasnya artinya ekspansi
Sumber : cnbcindonesia.com
PT Equityworld Medan
Equity world Medan