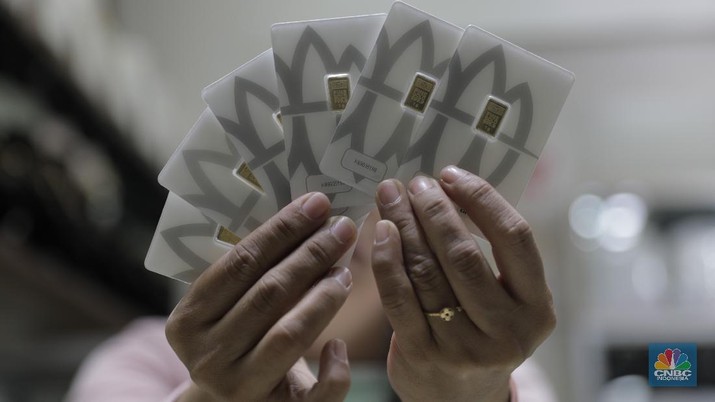 PT Equityworld Futures Medan-Harga emas batangan produksi PT Aneka Tambang Tbk. atau yang dikenal dengan emas Antam hari ini, Kamis (17/9/2020) stagnan alias sama dengan harga kemarin. Pengumuman kebijakan moneter bank sentral Amerika Serikat (The Fed) membuat harga emas dunia Cuma membukukan penguatan tipis pada perdagangan Rabu kemarin, yang berdampak pada emas Antam hari ini.
Melansir data dari situs resmi logammulia.com, harga emas Antam satuan 1 gram dibaderol Rp 1.030.000/batang, sama persis dengan harga kemarin. Satuan 100 gram yang biasa jadi acuan tetap dihargai Rp 97.212.000/batang, atau Rp 972.120/gram.
Harga emas dunia kemarin menguat 0,19% ke US$ 1.959,31/troy ons. Kenaikan tersebut diimbangi dengan penguatan kurs rupiah 2 hari terakhir, sehingga emas Antam menjadi stagnan.
Harga logam mulia di dalam negeri selain dipengaruhi emas dunia, kurs rupiah juga memberikan dampak, begitu juga dengan supply-demand.
The Fed dini hari tadi hingga tahun 2023 nanti. Tetapi bos The Fed, Jerome Powell, juga optimistis terhadap pemulihan ekonomi AS, bahkan tingkat pengangguran sudah turun lebih cepat dari prediksi The Fed.
Pengumuman kebijakan moneter tersebut terlihat sedikit membingungkan, optimis terhadap pemulihan ekonomi, tetapi suku bunga ditahan dalam waktu yang cukup lama. Alhasil, emas dunia pun tak banyak bergerak.
Meski belum mampu kembali menunjukkan kinerja impresif, namun Bloomberg Intellegence memprediksi emas masih akan terus menguat bahkan tidak menutup kemungkinan mencapai US$ 4.000/troy ons di tahun 2023.
Mike McGlone ahli strategi senior komoditas di Bloomberg Intelligence mengatakan rally harga emas baru saja dimulai, artinya kenaikan harga emas masih akan terus berlanjut.
"Emas mencapai dasar (bottom) di US$ 700 pada tahun 2008, dan mencapai puncak US$ 1.900 pada tahun 2019. Dengan kecepatan yang sama 2,7 kali dari level terendah di dekat US$ 1.470 tahun ini menunjukkan emas menuju US$ 4.000/troy ons di tahun 2023," kata McGlone, sebagaimana dilansir Kitco, Senin (14/9/2020).
Sebagai catatan, 1 troy ons, mengacu aturan di pasar, setara dengan 31,1 gram, sehingga besaran US$ 4.000 per troy ons dikonversi dengan membagi angka tersebut dengan 31,1 gram, hasilnya US$ 128.62 per gram. Dengan asumsi kurs rupiah Rp 14.800/US$, maka prediksi harga emas tahun ini bisa menembus Rp 1,9 juta/gram.
Sumber : cnbcindonesia.com
PT Equityworld Medan
Equity world Medan