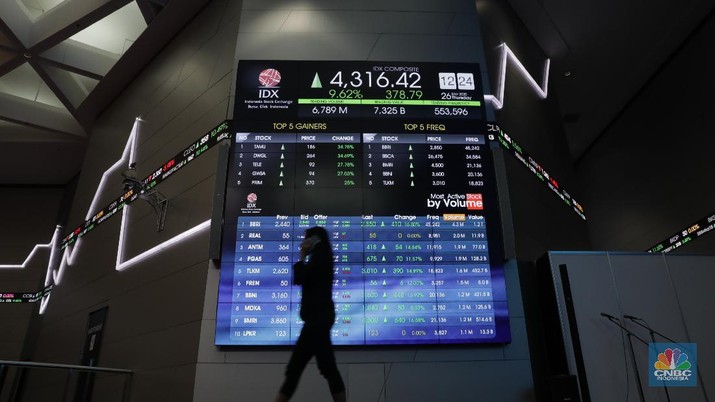 PT Equityworld Futures Medan-Indeks Harga Saham Gabungan (IHSG) pada perdagangan Selasa kemarin (28/7/20) ditutup di zona merah dengan penurunan 0,07% di level 5.112,98.
Data perdagangan mencatat, investor asing melakukan aksi jual bersih sebanyak Rp 235 miliar di pasar reguler dengan nilai transaksi menyentuh Rp 8,3 triliun. Digabung dengan net sell di pasar nego dan tunai, maka net sell asing menembus Rp 295,09 miliar.
Pilarmas Investindo Sekuritas menyebutkan investor masih akan wait and see hari ini, Rabu (29/7) terkait dengan pertemuan The Fed yang akan diadakan esok hari, ditambah dengan adanya data pertumbuhan ekonomi Amerika dan Eropa pada hari Jumat.
Dari global, Amerika dan Australia pada akhirnya melakukan konsolidasi dengan bersatu untuk melawan China dengan mengambil tindakan yang lebih tegas di kawasan Indo-Pacific.
Para pejabat senior antara Amerika dan Australia telah bertemu selama 2 hari di Washington pekan ini dan mereka sepakat untuk bekerja sama meliputi kegiatan militer yang lebih besar untuk membangun cadangan bahan bakar untuk operational militer yang secara komersial akan didanai oleh Amerika di kota utara Darwin.
Menteri Pertahanan dan Menteri Luar Negeri Australia, Linda Reynolds & Marise Payne bersama dengan Menteri Luar Negeri & Menteri Pertahanan Amerika, Michael Pompeo & Mark Esper mengatakan bahwa mereka akan mencoba untuk mengintegrasikan basic industry yang akan memperkuat hubungan operasional antara kedua negara serta hal yang terkait dengan pertahanan kedua negara
Dari segi teknikal, Reliance Sekuritas Indonesia mengemukakan IHSG bergerak pada moving average (MA) 5 hari dengan indikasi pengujian upper bollinger bands sebagai level konfirmasi penguatan lanjutan.
Meskipun dari segi pergerakan IHSG berpeluang menguat, indikator stochastic mengarah kepada pembalikan arah tren negatif dengan momentum moderate indikator RSI.
Dengan demikian IHSG diprediksi berpeluang menguat tertahan dengan support (batas bawah) 5.056 dan resistance (batas atas) 5.158.
Sumber : cnbcindonesia.com
PT Equityworld Medan
Equity world Medan