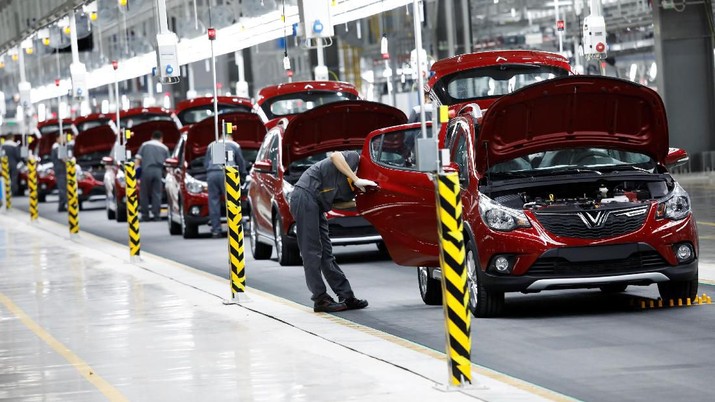 PT Equityworld Futures Medan- Sentimen buruk datang kepada sektor otomotif Tanah Air setelah rilis data penurunan penjualan mobil pada Mei 2020 makin parah sebagai dampak pandemi covid-19 di Indonesia. Namun sentimen negatif tersebut tak mempengaruhi saham-saham industri otomotif.
Pagi ini saham-saham dari perusahaan otomotif mayoritas berada di zona hijau.
Kenaikan tertinggi dicatatkan oleh PT Astra Internasional Tbk (ASII) yang berhasil naik 4,01% ke level harga Rp 4.930/unit jelang diadakanya Rapat Umum Pemegang Saham Tahunan (RUPST) pada hari ini dan menetapkan Djoni Bunarto Tjokro menjadi direktur utama yang baru menggantikan Prijono Sugiarto.
Sedangkan hanya saham PT Indomobil Sukses Internasional Tbk (IMAS) yang terpantau tidak bergerak, tetap di level harga Rp 650/unit.
Kenaikan hari ini tidak lepas dari sedang bergairahnya pasar global setelah keputusan Federal Reserve alias The Fed mengatakan pihaknya akan membeli obligasi korporasi di pasar sekunder, memperluas pembelian surat utang korporasi dari semula hanya di pasar primer.
Sikap The Fed yang kian agresif melakukan pembelian di pasar obligasi menunjukkan bahwa bank sentral paling digdaya sedunia ini bakal memastikan likuditas di pasar terjaga dan bahkan berlebih.
Dengan likuiditas berlebih, maka pasar modal negara berkembang dan emerging market pun berpeluang mendapat limpahan investasi portofolio, yang tentunya menjadi sentimen positif kenaikan IHSG hari ini.
Sebelumnya berdasarkan data Gabungan Industri Kendaraan Bermotor Indonesia (Gaikindo) penjualan mobil pada Mei 2020 anjlok makin dalam turun hingga 95%. Penjualan pada Mei 2020 tercatat hanya 3.551 unit, padahal pada Mei 2019 masih mencatatkan penjualan 84.109 unit.
Penjualan ini juga turun 54% bila dibandingkan dengan penjualan pada April 2020 yang sempat terjual 7.868 unit.
Penjualan April hanya terjual 7.871 unit atau turun 90,6% (year on year/yoy) dibandingkan April 2019 yang tercatat 84.056 unit.
Dibandingkan penjualan Maret 2020 juga drop sangat parah, atau turun sebesar 89,7%.Pada Maret 2020 penjualan sempat masih tercatat 76.811 unit.
Pada Maret 2020 penjualan mobil sempat tercatat hanya 76.800 unit atau hanya drop 15% dibandingkan dengan Maret 2019 yang masih mencatatkan penjualan 90.368 unit.
Sumber : cnbcindonesia.com
PT Equityworld Medan
Equity world Medan