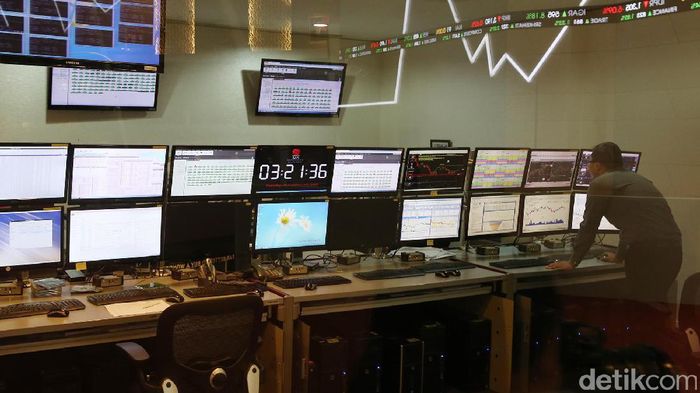 Equityworld Medan – Indeks Harga Saham Gabungan (IHSG) dibuka melemah pagi ini. IHSG sempat menguat pada pra perdagangan tadi pagi.
Sementara nilai tukar dolar Amerika Serikat (AS) terhadap rupiah pagi ini berada di level Rp 14.030. Posisi dolar AS lebih perkasa dibanding posisi kemarin yang Rp 13.987.
Pada perdagangan pre opening, IHSG naik tipis 1,250 poin (0,02%) ke 6.526,933. Indeks LQ45 juga menguat tipis 1,022 poin (0,02%) ke 1.022,027.
Membuka perdagangan, Kamis (28/2/2019), IHSG melemah 0,995 poin (0,02%) ke 6.524,688. Indeks LQ45 berkurang 0,394 poin (0,04%) ke 1.021,385.
Pada pukul 09.05 waktu JATS, IHSG melanjutkan pelemahan dengan penurunan 7,874 poin (0,13%) ke 6.522. Indeks LQ45 juga turun 1,966 poin (0,19%) ke 1.021,087.
Sementara itu, Indeks AS ditutup bervariasi pada hari Rabu. S&P 500 ditutup sedikit lebih rendah pada hari Rabu tetapi jauh di atas sesi rendahnya setelah kesaksian Kongres AS dari perwakilan perdagangan AS Robert Lighthizer dan The Fed.
Lighthizer mengatakan bahwa AS dan China masih harus bekerja keras untuk menyelesaikan sengketa perdagangan mereka.
The Fed Powell mengatakan bahwa The Fed akan berhenti memotong neracanya sebesar USD4tr tahun ini. Harga minyak melonjak paling tinggi dalam hampir sebulan setelah data AS menunjukkan penarikan terbesar dalam pasokan minyak mentah domestik sejak Juli.
Perdagangan bursa saham Asia mayoritas bergerak merah pagi ini. Berikut pergerakannya:
Indeks Nikkei 225 turun 75,77 poin ke 21.480
Indeks Hang Seng bertambah 99,65 poin ke 28.857
Indeks Komposit Shanghai naik 1,77 poin ke 2.955
Indeks Strait Times melemah 14,160 poin ke 3.235
Sumber : detik.com
PT. Equityworld Medan
EWF Medan