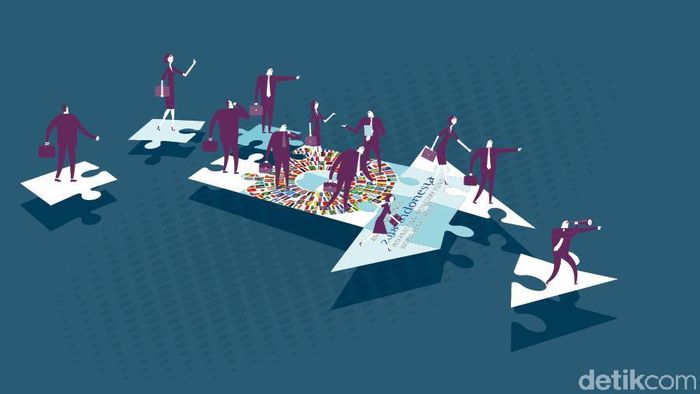 Equity World Medan – Rangkaian acara pertemuan tahunan International Monetary Fund (IMF) dan World Bank di Nusa Dua, Bali sudah memasuki hari keempat.
Berbagai macam seminar bertema ekonomi masih digelar. Antara lain akan digelar seminar tingkat tinggi bertema "The Shadow of Neo Protectionism and Coping With The Challenges of The Normalisation Process".
Seminar ini diorganisir oleh Reinventing BRetton Woods Committee (RBWC) dan Bank Indonesia. Digelar pada pukul 11.15 WITA hingga 17.45 WITA di St Regis Hotel, Nusa Dua.
Deputi Gubernur Senior BI Mirza Adityaswara dan Direktur Eksekutif RBWC Marc Uzan akan memberikan sambutan. Gubernur bank sentral dari seluruh dunia akan hadir dalam seminar ini. Mulai dari Gubernur bank sentral Spanyol, Iceland, Colombia, Finland, Estonia, hingga Gubernur bank sentral Israel dan Gubernur People Bank of China.
Selain pertemuan para gubernur bank sentral. Juga digelar acara infrastructure forum. Yang dikoordinir oleh Badan Koordinasi Penanaman Modal (BKPM) dan HSBC pada pukul 09.00 WITA – 12.30 WITA di Ayana Resort & Spa, Jimbaran.
Akan hadir Kepala Bappenas Bambang Brodjonegoro, Deputi Gubernur BI Sugeng, kepala BKPM Thomas Trikasih Lembong. Forum ini akan membahas pertumbuhan investasi di Indonesia. Karena RI berpotensi menjadi negara terbaik nomor 4 pada 2045.
Seminar bertajuk lingkungan juga akan digelar dalam rangkaian acara pertemuan tahunan IMF World Bank ini. Acara bertajuk "Low Carbon Development & Green Economy" ini diorganisir oleh Bappenas dan digelar di Hotel Inaya Putri Bali, Nusa Dua pukul 09.00 WITA – 2.45 WITA. Akan menghadirkan President of the Assembly and Chair of the Councyl Bank Ki-moon, LCDI Commissioner Sir Nicholas Stern dan Director General, Global Green Growth Institute Frank Rijsberman.
Lalu juga ada seminar bertajuk "How to Mobilize Private Investment for Green Infrastructures Promoting Interaregional Connectivity" yang diorganisir oleh Kementerian Keuangan. Acara ini digelar di Ayodya Resort, Nusa Dua. Akan hadir duta besar Jepang untuk Indonesia Masafumi Ishii dan Menteri Keuangan Sri Mulyani Indrawati.
Kemudian juga akan digelar dialog tingkat tinggi terkait Asia. Dimulai pukul 15.00 WITA – 17.00 WITA. Kemudian akan hadir Gubernur BI Perry Warjiyo, President Asian Development Bank (ADB) Takehiko Nakao. Gubernur Bank Sentral Filipina Nestor A Espenilla, Gubernur Bank Sentral Thailand Veerathai Satiprabhob, Managing Director, Monetary Authority of Singapore dan Gubernur Bank Negara Malaysia Datuk Nor Shamsiah Mohd Yunus.
(kil/ang)
Sumber : detik.com
PT. Equityworld Medan
EWF Medan