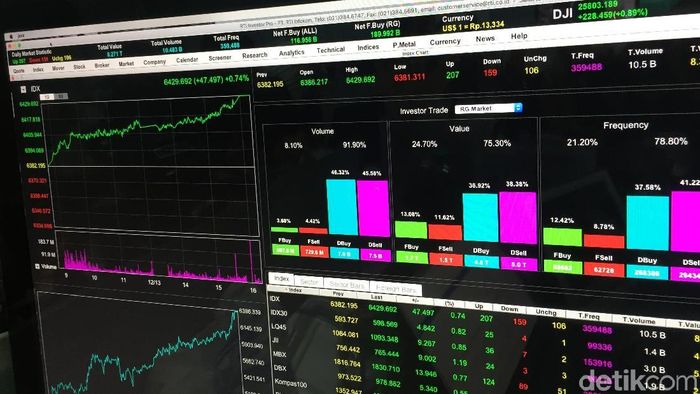 Equity World Medan -Indeks Harga Saham Gabungan (IHSG) pagi ini diawali dengan pergerakan di zona merah. IHSG dibuka melemah 2,741 poin atau 0,05% ke 5.871,558.
Sementara nilai tukar rupiah terhadap dolar Amerika Serikat (AS) pagi ini kembali mengalami pelemahan. Dolar AS pagi ini tembus level Rp 14,935.
Pada perdagangan pre opening, IHSG turun ke level 5.871,558 atau turun 2,741 poin (0,05%). Sementara indeks LQ45 juga turun ke posisi 925,93.
Membuka perdagangan, Rabu (26/9/2018), IHSG kemudian berbalik arah bertambah 2,715 poin (0,05%) ke 5.877,014. Indeks LQ45 naik 0,074 poin (0,01%) ke 926,686.
Pada perdagangan pukul 09.05 waktu JATS, IHSG naik 6,269 poin (0,11%) ke 5.880,568. Indeks LQ45 naik 0,894 poin (0,10%) ke 927,506.
Laju positif IHSG pagi ini ditopang penguatan 9 sektor saham. Saham sektor industri campuran naik paling signifikan mencapai 0,50%.
Sementara itu, indeks utama bursa AS ditutup mixed dengan mayoritas berada dalam zona merah pada perdagangan Selasa (25/09). Indeks Dow Jones dan S&P turun 0.26% dan 0.13%, sedangkan satu indeks lainnya yakni Nasdaq berakhir positif sebesar 0.18%.
Pelemahan pada mayoritas indeks salah satunya dikarenakan pelaku pasar mengantisipasi kenaikan suku bunga The Fed yang dikhawatirkan dapat menjadi sentimen negatif atas beberapa industri yang sangat sensitif dengan kenaikan tersebut.
Selain itu, dengan adanya kenaikan suku bunga The Fed artinya beberapa perusahaan harus menahan aktivitas ekspansinya. Adapun pengumuman rencana kenaikan The Fed akan dilakukan pada akhir pekan ini. Sementara itu, dari pasar komoditas minyak mentah mengalami penguatan 0.36% ke level USD 72.28 perbarel.
Bursa saham Asia bergerak positif. Berikut pergerakannya:
Indeks Nikkei 225 menguat 0,82% ke 23.885,730
Indeks Hang Seng naik 0,65% ke 27.678,359
Indeks Komposit Shanghai bertambah 0,35% ke 2.790,890
Indeks Strait Times naik 0,40% ke 3.249,160
(fdl/fdl)
Sumber : detik.com
PT. Equityworld Medan
EWF Medan