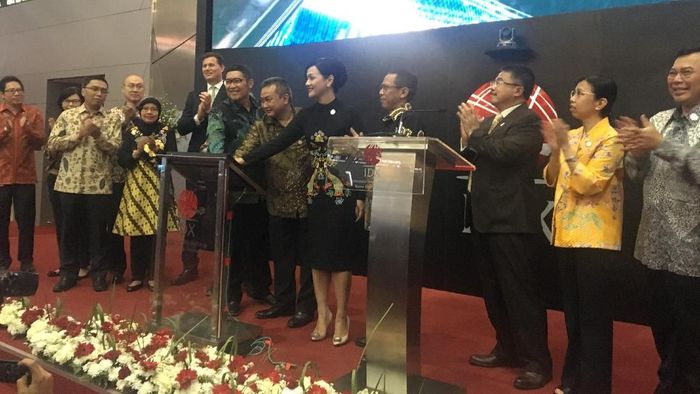 Equity World Medan – PT Bursa Efek Indonesia (BEI) hari ini mengundang Nasdaq untuk membuka perdagangan saham. Hubungan ini sebagai langkah awal kerja sama keduanya.
Pembukaan perdagangan saham dilakukan langsung oleh Kepala Ekskutif Pengawas Pasar Modal Otoritas Jasa Keuangan (OJK) Hoesen, Direktur utama PT Kustodian Sentral Efek Indonesia (KSEI) Friderica Widyasari dan Managing Director South Asia, South East Asia and Pacific Nasdaq Robert Frojd.
"Saya ucapkan terima kasih diundang untuk pembukaan perdagangan bursa efek hari ini. Merupakan suatu kehormatan bagi Nasdaq bisa bekerja sama dengan KSEI dan kami menantikan hubungan jangka panjang yang baik di masa depan," kata Fjord di Gedung BEI, Jakarta, Rabu (8/8/2018).
Direktur Utama KSEI Friderica Widyasari menjelaskan sudah lama mengenal Robert Fjord di dunia pasar modal.
"Saya sejak 2005 kenal Rob, jadi saya yakin tidak salah pilih partner," ujar dia.
OJK Buka Perdagangan Saham Bareng NasdaqOJK Buka Perdagangan Saham Bareng Nasdaq Foto: Sylke Febrina Laucereno
Setelah membuka perdagangan, acara dilanjutkan dengan peluncuran The Central Depository and Book Entry Settlement System (C-BEST) generasi terbaru atau C-BEST Next Generation (Next – G). Ini adalah hasil kerja sama KSEI dan Nasdaq.
C-BEST adalah platform elektronik terpadu yang telah mendukung aktivitas penyelesaian transaksi efek secara pemindahbukuan sejak tahun 2000, tepatnya pada saat implementasi perdagangan tanpa warkat (scripless) di Pasar Modal Indonesia.
Peluncuran C-BEST merupakan upaya KSEI dalam mendukung perkembangan Pasar Modal Indonesia terutama dari sisi peningkatan jumlah investor dan peningkatan jumlah penyelesaian transaksi.
Sumber : detik.com
PT. Equityworld Medan
EWF Medan
Lowongan Kerja Terbaru 2018
Loker EWF Medan